The NPD data is emerging for January, giving us a good idea of the winners and losers in the US market at the start of the year.
For Nintendo it's a mixed set of results; to get the negative out of the way the Switch fell out of top spot in hardware sales. On the metrics of units sold and revenue the PlayStation 5 came out on top, with Xbox Series X|S in second. One factor may be that both companies were able to boost supply a little, and it also seems like Nintendo's impressive sales over the Holidays may have constrained supplies. The NPD Group's Mat Piscatella highlighted on social media that the hardware winner each month typically matches stock availability.
In terms of software there was good news for Nintendo however, with Pokémon Legends: Arceus taking the number one spot; that's despite Nintendo not sharing digital game sales with NPD, so its result is solely from physical sales. You may also note the return of Monster Hunter: Rise, which was largely driven by the PC release and Steam sales.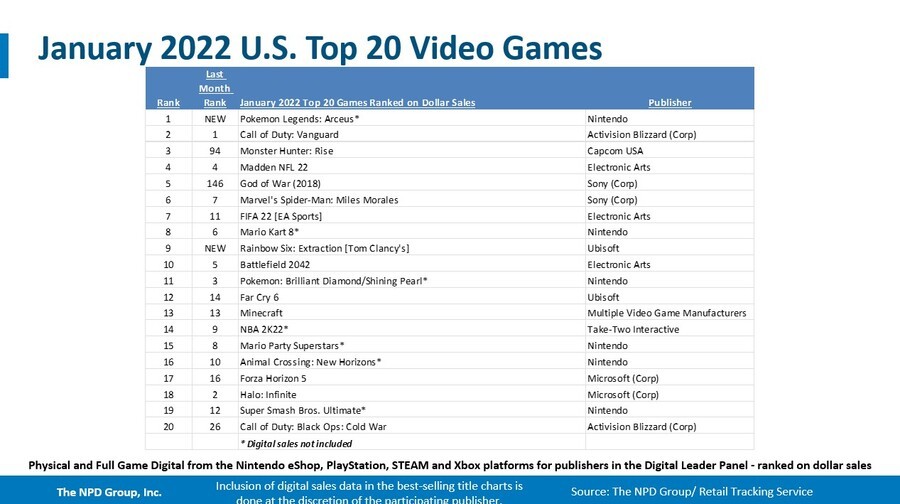 It'll be interesting to see how Switch hardware availability fares over the next few months, with Nintendo's revised target being to have sold 23 million systems for the financial year (end of March). Next month's NPD software results, meanwhile, will be focused on how the momentum has held up for the current strong performers on Switch.
Let us know what you think of the results, as always, in the comments below.